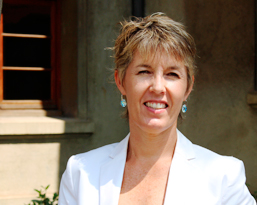 Mary Guinn Delaney
Regional Advisor on Health and HIV Education, based at the UNESCO Regional Office for Education in Latin America and the Caribbean in Santiago, Chile
Chile
Since April 2008, Mary Guinn DELANEY has been a Regional Advisor on Health and HIV Education, based at UNESCO's Regional Office for Education in Latin America and the Caribbean in Santiago, Chile. A trained economist, she has more than 25 years of experience on issues related to education in sexuality, gender, school health, HIV and economic development.
From 1993 to 1996, she directed the AIDS program of the Global Health Council (Washington, DC, USA), and later served as UNAIDS Country Coordinator in Namibia and Honduras.
Based in Managua, Nicaragua from 2000 to 2005, she coordinated the activities of the Latin American and Caribbean Initiative of the Synergy Project, a global activity funded by the United States Agency for International Development (USAID).
She has worked with various international cooperation agencies and the United Nations System, participating in multiple strategic planning and evaluation processes in Latin America.