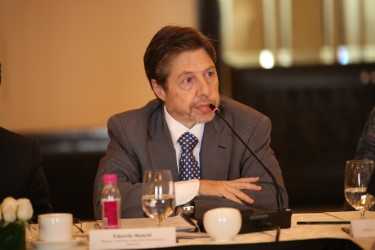 Eduardo Bianchi
Economist from the University of the Buenos Aires, Argentina, and the University of New York, United States Professor and Researcher, Argentine School
Argentina
He has held several public positions in Argentina, including Secretary of Industry and Commerce, Undersecretary of Politics and Foreign Trade Management, Undersecretary of International Economic Relations of the Province of Buenos Aires, General Manager of the National Commission of Foreign Trade and Chief Economist of the National Commission for the Defense of Competition. He has been an instructor at the World Trade Organization, training officials from various countries in Latin America and Asia.
He was a professor at several Argentine universities. He is currently a professor and researcher at the Argentine School of Business University Institute.
Professor Bianchi is the author of several publications, mainly in the fields of international trade, industrial policy, climate change and food security.
He participates in the Food Security program of IANAS, a regional network of science academies created to support cooperation in order to strengthen science and technology as a tool for research and development, prosperity and equity in the Americas.